Millions of people depend on coffee to get them moving in the morning. At first, the caffeine can be stimulating, but eventually these effects will run out. Instead, coffee drinkers will need coffee just to feel "normal" in the morning. They have become addicted to coffee. Why?
The answer is that coffee stimulates the reward part of the brain. Coffee drinkers continue to drink coffee in order to gain that reward. If coffee no longer produced the pleasurable chemical effects, there would no longer be an addictive need to drink it. This may be a key in counteracting addiction: for example, if scientists can find a way to decrease the reward for taking cocaine, then stopping cocaine use would be much easier.
Withdrawal from a drug produces symptoms very similar to the symptoms of depression. And, notably, withdrawal from addiction is one way of becoming depressed, although many other things (like genetics) can cause depression too.
Depression is usually thought of as a single disease, but in reality it can take many different forms. Scientists are just beginning to understand the different types of depression.
Throughout the past century we have seen many theories on depression. Most drugs to treat depression on the market today target the neurotransmitter serotonin. Newer research has found that other neurotransmitters besides serotonin play a role in depression.
Dr. Bill Carlezon of McLean Hospital in Belmont, Massachusetts believes that dopamine is the neurotransmitter that has important effects on people's moods. "Dopamine seemed to be the important "feel good" neurotransmitter," said Dr. Carlezon, "but there had to be something controlling it, and turning it off during depression." Dr. Carlezon set out to find the protein that controls dopamine levels in the brain.
Dr. Carlezon's research honed in on the protein called CREB (it stands for cyclic AMP response element binding protein). CREB is found in the nucleus of all nerve cells.
CREB is known by researchers as a super-molecule and a transcription factor. What does that mean? It means that from the nucleus of cells CREB controls genes, which are like the list of instructions (or recipes) for making all chemicals in the body. Every chemical your body has its own gene, and lots of genes put end to end make up your DNA, which is kept in the nucleus. CREB can go into the DNA and turn on certain genes.
Although CREB is found in all brain cells, it plays different roles in different parts of the brain. Dr. Carlezon's research focuses in particular on the part of the brain known as the nucleus accumbens, where the brain's reward center – and particularly the drug reward center – is located.
To determine if CREB plays a major role in regulating dopamine and thereby either depression or addiction, Dr. Carlezon experimented on rats and mice by either making CREB work better or worse in the reward center. Then he put the animals under some kind of stress to see how they react. It sounds simple, but in fact it is a very complicated process.
First, he had to figure out how to control the expression of CREB. One of the best ways to control gene expression is to use a viral vector. Viruses (like "the flu") are experts at getting into cells and changing their chemical recipe lists; the flu tricks the cell into making more flu virus instead of the chemicals it needs. Dr. Carlezon took a virus that is safe for humans and re-programmed it to either turn on or turn off CREB. He then inserted the virus into the reward center of the experimental rats and mice.
When CREB was turned on, the animals had symptoms similar to those of depression. Where CREB expression was turned off, on the other hand, the animals were happy and content and would work for a reward, such as a tasty food or drug. This process of working for a reward is experienced by people who are addicted to drugs such as cocaine. In fact, "it is the positive reward and the good feeling that animals want to satisfy that keep animals coming back for more drugs," says Dr. Carlezon.
These results confirmed Dr. Carlezon's hypothesis that CREB may be involved in both depression and addiction. The depression experienced by animals is similar to that experienced by people recovering from cocaine addiction. And the signal to the reward center that is fed by cocaine addiction produces the opposite effects of depression.
Next, Dr. Carlezon wanted to figure out which chemical in particular CREB was controlling to cause depression in these animals. "There were literally thousands of possibilities," said Dr. Carlezon. "But I had a short list from my previous research." He also wanted to know if this chemical would also affect addiction or the reward center in the brain.
With more experiments, Dr. Carlezon and his colleagues found one chemical: dynorphin. This is one of the three main chemicals produced in your brain when you exert yourself, like by running a marathon, or when you are stressed: enkephalin, endorphin, and dynorphin. All three are produced during physical stress because they are natural painkillers. Enkephalin and endorphin make you feel good: dynorphin balances out the other two chemicals. Dr. Carlezon calls dynorphin "the evil cousin of enkephalin and endorphin" because it makes people and animals feel bad. When CREB is turned on, it turns on dynorphin, which leads to feelings of depression. You can picture it like this: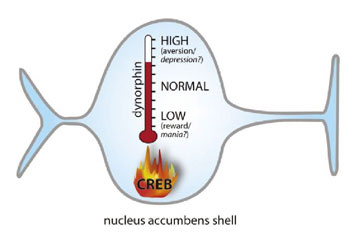 Dynorphin then binds to a specific receptor that blocks (prevents) the release of dopamine (which you will remember as a "feel good" chemical). This special receptor is called a kappa receptor. Only dynorphin, not any other chemical in the body, can bind to it. When dopamine is not released, it creates an imbalance in the brain, making you feel bad—or depressed.
To recap: dopamine makes you feel good, and turning CREB on leads to the production of more dynorphin, which leads to the inhibition (reduction) of dopamine, creating a chemical imbalance in the brain.

Perhaps reducing CREB would reverse the arrows.

"In theory, a chemical that can turn CREB off might be promising as an antidepressant," said Dr. Carlezon. Another, less well known possible use for chemicals that turn CREB on would be as a pro-depressant for people suffering from mania. Experiments are currently in progress on that front.
In order to determine if CREB is responsible for the depression response, Dr. Carlezon and his colleagues did experiments to turn CREB off. This approach is used by scientists to determine if the chemical in question is the primary chemical responsible for the effect being studied. In this case, depression or addiction.
The team found that animals with a broken or mutant form of CREB have lower CREB levels, which inhibits dynorphin. Cutting down on dynorphin allows dopamine to be released, which turns on the reward system or addictive behavior in animals.
Dr. Carlezon believes his approach is unique because he is looking at causes for depression and reward (addictive behavior) in the brain. "Previously," said Dr. Carlezon, "researchers would try to figure out how antidepressant drugs work, and base their ideas about what causes depression on those findings. What we are doing is finding how the brain works, which should give us better ideas for new treatments." Possible antidepressant drugs are now being tested at prominent pharmaceutical companies. Dr. Carlezon is hopeful novel therapies will be developed from his research.